Some events in brief during June and July 2016, including Eid-ul-Fitr
Reports and photographs
by Amir Aziz, Imam Berlin Mosque
Participation in Workshop
On 26th June 2016 a workshop was conducted by coordinator of Multi Religious Faiths. I participated in this very informative and beneficial workshop. Coordinator belongs to the Jewish Community but has great regard for our Mosque and Islam. My participation was appreciated and she offered us free stall in a Religious Festival, organized by her organization. I took full benefit of her offer.
Participation in Festival of Religions in Berlin
On 10th July 2016 Festival of Religions was organized at a Cultural Center in Berlin. Christians, Hindus, Buddhists, Jews and Muslims participated in the festival. I participated with our literature and informative flyer about Mosque. Al-hamodillah, keeping in view the history of Mosque and our Islamic view our stall was put up in the main place. Festival was organized from 11 am to 6 pm.
With Allah blessings more than 200 flyers were distributed. Copies of German Translation of Quran were sold and distributed as well. It was a great day for the advertisement of our Mosque and Mission.
More important is that only our Mosque was presented in the photo gallery organized by the organization. The photographer who took photos specially thanked me for participation. All photos she placed there, were black and white but appreciated by visitors.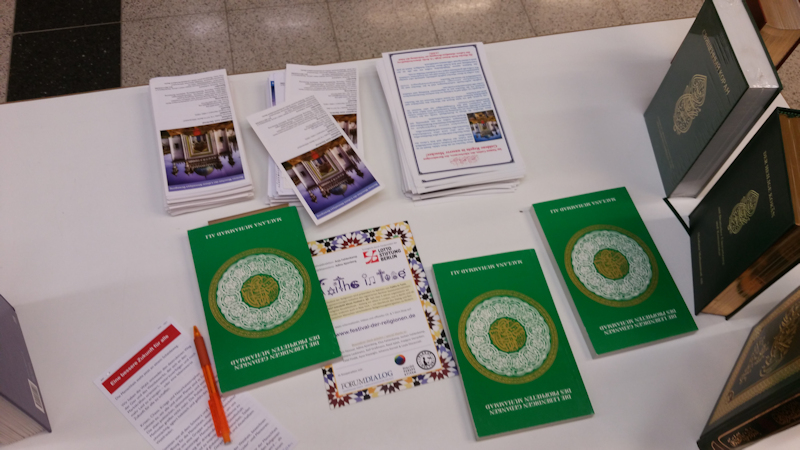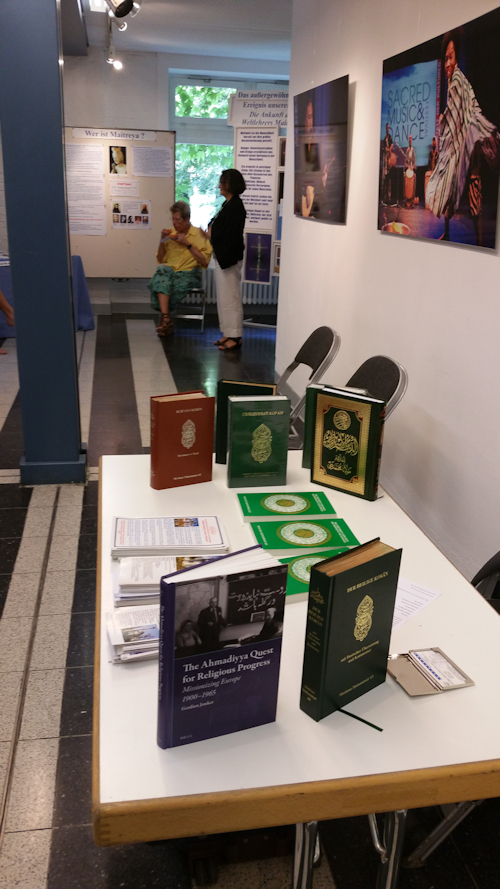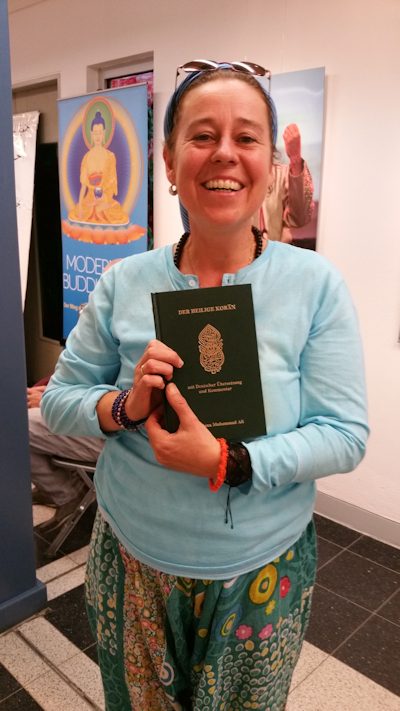 ---
Eid-ul-Fitr, 5 July 2016
This year it was a divided Eid in Germany. The majority celebrated it on 5th July and the others on 6th July as per Saudi Arabia.
The Eid Programme in our Mosque was recorded by RBB television, a channel in Berlin. It recorded complete Eid activities, prayer, Eid Sermon, and post-Eid party. This year, apart from people from Berlin, people of the following countries participated in Eid programme: Malaysia, UK, Mali, Afghanistan, Syria, Egypt, Aljazair, Sri lanka , Sudan, South Korea, china, Turkey, Senegal and Iraq.
After the Eid prayer a party was arranged in the garden. Refugees of Syria were also invited and food was served. On behalf of the mosque I presented Eid gifts to some refugees children for which they all thanked us.
A professional photographer, Mr. Christian Fessel, from Berlin and Mr. Craig from UK covered the whole event as well. People of other faiths were invited and many participated in Eid prayer as well. Danish Church priest especially participated with a Eid gift. On the same day Mr. Joans accepted Islam.
For photographs, see this link.

Students and teachers of Evangelisches Gymnasium Kleinmachnow (High School) from Berlin participated in the programme. They visited the mosque and stayed for two hours with us. They had long question answer session. Here are some Highlights of the programme.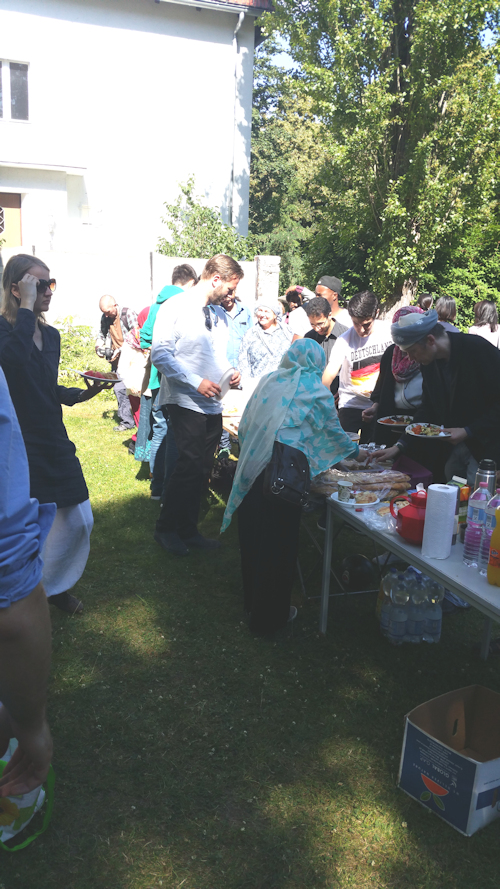 Below: Priest of Danish Curch with Imam of Berlin Mosque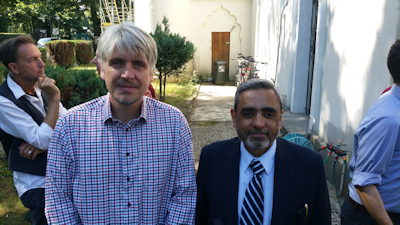 Below: Evangelic High School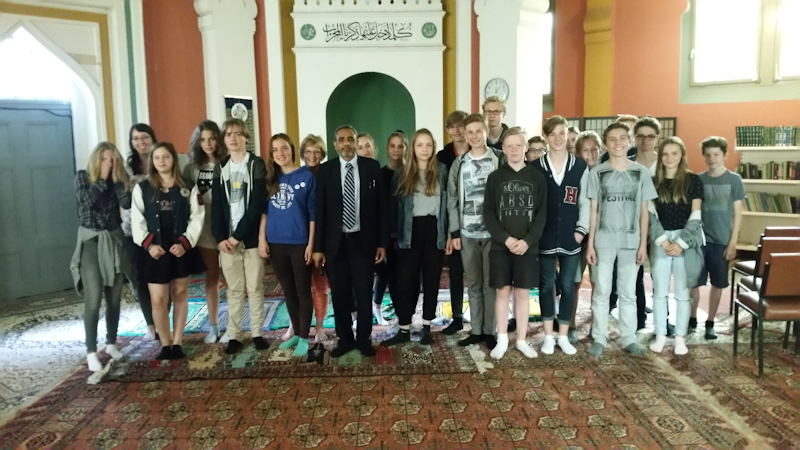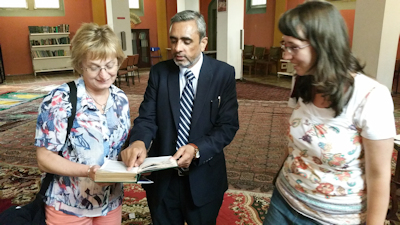 Below: A local kinder Garden School visiting the mosque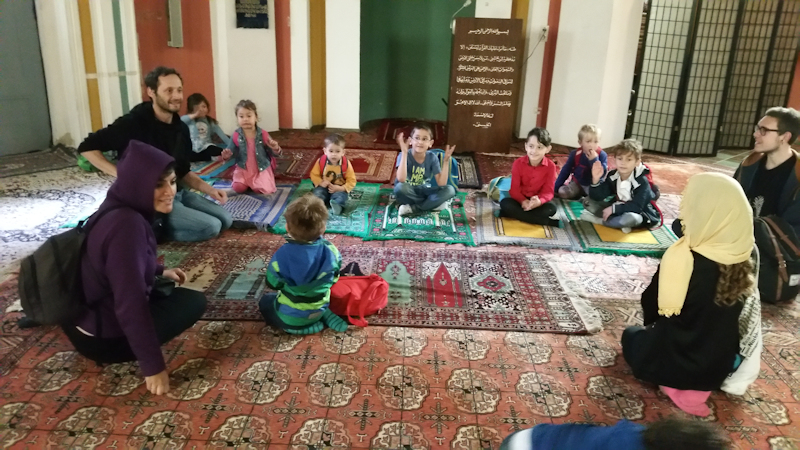 ---
Visit of Muslim Girls and Women
A group of Muslim women and girls visited our Mosque on Thursday 28th July 2016. The group comprised of women and girls from Spain, England, Germany and Bulgaria. They were all staying with a family who organizes such trips for Muslim women. I led them in Asr prayer and then we had a long discussion and question/answer session. They stayed for two hours and enjoyed their trip.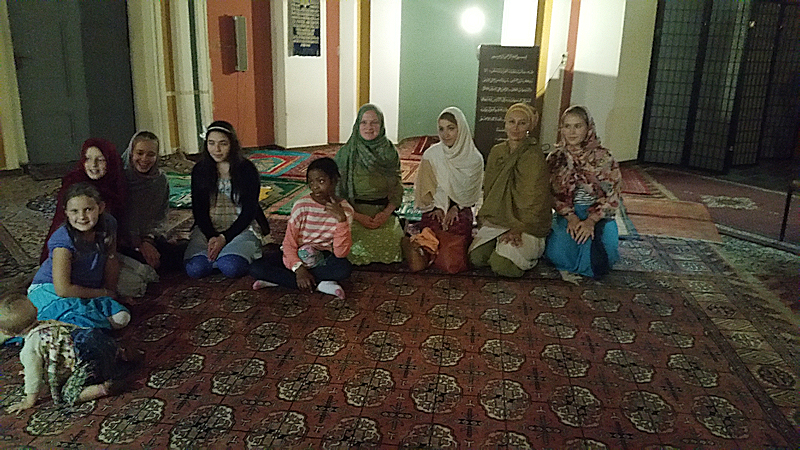 ---
Visit of Journalist from Frankfurt
Mr. Abdul Ahmad Rashid, who is Editor in ZDF German Television, visited the Mosque and participated in Friday prayer on 29th July 2016. He enjoyed the sermon and then we had a long discussion. He was interested in getting German Translation of the Quran by Hazrat Maulana Sadr-ud-Din, which I presented to him. He has written many articles and produced TV programmes about our Mosque but this was his first visit. He was presented with books about the history of the Mosque, the book Islam, Peace and Tolerance by Dr Zahid Aziz, and other material.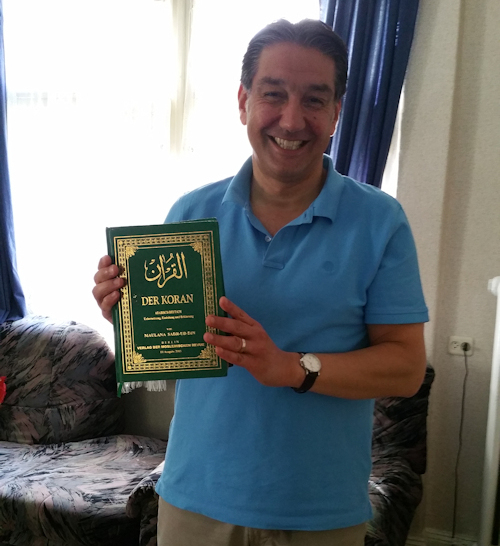 ---
Article about our Mosque in a book
On 30th July 2016 a couple from Hamburg visited the Mosque late at night. They informed me that they were leaving Berlin but specially came to see the Mosque. On my question they showed me the book in which an article is written about our Mosque. The title of the book is: As You Do Not Know It.
The book contains an article about our Mosque with the Title Taj Mahal in Wilmersdorf. The couple was much delighted to see the Mosque and thanked that they were able to see this wonderful building. This shows importance and significance of our Mosque.
Cover of the book
Article in the book