Events in July 2018
Reports and photographs
by Amir Aziz, Imam Berlin Mosque
Into the Fold of Islam
With the blessings of Allah, in the month of July two young people accepted Islam. A young boy had a long discussion with me and at the end he decided to accept Islam. Next day a young girl, after having long discussion and asking questions, also accepted Islam . May Allah help them to be practically good Muslims and responsible citizens. Due to new privacy policy, their names are not shared without their permission.
A brief view of Visitors
People visited the Mosque from the following countries in the past two months: Belgium, Uruguay, Denmark, USA, Egypt, France, Indonesia, Malaysia, Algeria and from various cities of Germany. As sample, shown below is a page from our Visitors Book.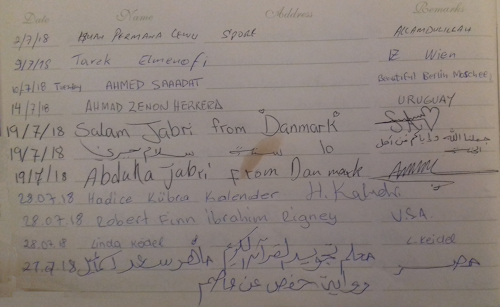 Urdu Anjuman Berlin
On 1st July Urdu Anjuman Berlin organized a programme in the honour of a very famous Indian writer, Ms. Noor Zaheer, daughter of famous writers Sajjad Zaheer and Razia Sajjad Zaheer. The late Sajjad Zaheer was a member of the Indian delegation who held dialogue in Shimla with the British government of India. I also recited my poems on this occasion.
Afsana Sham
On 2nd July Afsana Sham was organized in honour of above mentioned guests by the international online newspaper Pakban. I was asked to read my new written Afsana which was appreciated by the guests and the audience.
The two images below relating to this function are extracted from the website of Pakban (www.pakbanint.com/gallery.php). The first is from the report of the function in Urdu (where we have included the beginning of the report and the later mention of the Afsana by Imam Anir Aziz). The second is a photo in which Imam Amir Aziz is seated on the left, with other participants.
Visit by Ex in-charge of Berlin Mosque
On 13th July brother Mr Ahmed Saadat, who was previously incharge of the Mosque, and his wife visited Berlin and attended our Friday prayer. It was a pleasant surprise to meet the couple who stayed for sometime. Mr Ahmed is second from the left in the photo below.
Visit of sister Saleema Malik
On 20th July sister Saleema Malik, daughter of Mr Izaz Illahi Malik (Vice President of Central Anjuman Lahore) and her daughter visited the Mosque and attended the Friday prayer. It was an honour to host them and their participation was very encouraging. It is a blessing of Allah that our members visit the Mosque from time to time. We would appreciate their suggestions to improve its management.
Interfaith programme in the Mosque
On 24th July an interfaith dialogue was organized in the Mosque by the HWPL organization. Representatives of Christianity, Buddhism and Islam participated. I represented Islam and we talked about the topic: Beginning and End of all things. It was an interesting event.
Visit of Unterwelten Berlin organization
On 22nd July Unterwelten organization visited the Mosque with twenty people. After a presentation, a question/answer session was held. The organization printed its annual magazine in which details of our mosque have been included. See the image from it below:
Message of Islam and AAIIL in South Korea
It is the blessing of Allah that the message of Islam and the AAIIL has reached South Korea. I have received letters from South Korea in this connection. I have been invited by an organization to attend their conference in Seoul and give lectures there in September.
Hyunseok Lee writes:
"I live in a country where it's quite difficult to meet with Islam. But I realised through your speech that Islam is the religion about peace. And I was so impressed by your speech that all religions have to accept each other and have a conversation for harmony. I thought if we have more religious leaders who agree with the idea of Imam Aziz, then world peace would be achieved soon."
Sun-ju Jang writes:
"I heard you are invited to the 4th Annual Commemoration of the WARP Summit in September in Seoul. I would like to personally ask you to participate in the event and have a discussion with Korean young people who have religions. Because Islam is not so much popular in Korea. There are many rumors about Muslims. In this regard, I really hope for your attendance. Your presence will be an inspiration not only to the WARP Summit but to many religious youths in Korea. And it will give a great effect in religious harmony."