Events in March 2018
Reports and photographs
by Amir Aziz, Imam Berlin Mosque
Participation in Meeting by District Office
On 1st March an interfaith meeting of all religious representatives was held by the respected Mayor of our district. The meeting is held every three months which is beneficial for interfaith harmony. All representatives discussed the agenda and also informed about their activities. Berlin Mosque activities were also presented.
Acceptance of Islam
On 2nd March Mr. Silvio Richter took Shahada and came into the fold of Islam . He was given explanation about Islam and the AAIIL . He was presented with a copy of the German translation of the Holy Quran and other literature. Please pray for his future, that may Allah bless him to follow the true teachings of Islam.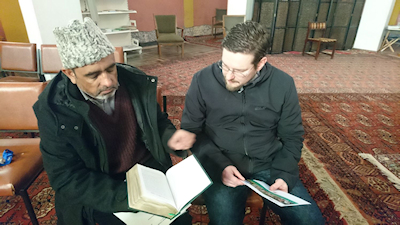 Visit of Secondary School
On 15th March students of Freie Secondary School Pankow Berlin visited the Mosque with their teachers. It was a class of very intelligent students who asked many questions. They stayed in the Mosque for two hours. A copy of the Holy Quran was presented for their school library. Some interested students were also presented with the Holy Quran for their knowledge.
Interview by AFP Chanel
On 16th March a German French Channel recorded the Friday Sermon and also my interview for a documentary about the Mosque. This is already available on YouTube as well. The peaceful teachings of Islam were explained and 95 years role of the Berlin Mosque in presenting these teachings was highlighted. You can watch this documentary at this link.
Interview by BR Chanel
On 17th March, BR Chanel visited the Mosque and had my brief interview about the statement of Minister of Interior Germany in which he stated that Islam does not suit Germany. My views were recorded about this, in which I mentioned that we respect his views but do not agree with them. It was explained that Islam has been presented by this Mosque for more than 90 years and it has never created any problem for Germany. There is the possibility that some misguided Muslims may be a problem but Islam and the majority of Muslims will never be a problem for Germany; rather they are an asset.
Visit of Arabic School
On 24th March, 30 students of Qurtaba Arabic evening school visited the Mosque with their teachers. I led them in Zuhr prayer and they asked questions about the Mosque. The Principal of the School was presented with three copies of the German translation of the Holy Quran as he told that they have three branches and each one should have one copy at least. He already had the German translation of the Holy Quran by Maulana Sadr-ud-din sahib.
Visit of Students and Priest from Denmark
On 25th March a group of students with priest of a Church from Denmark visited the Mosque. They asked a lot of questions about Islam and also about the current situation of the Muslim world. They asked for an English translation of Holy Quran which was presented to them.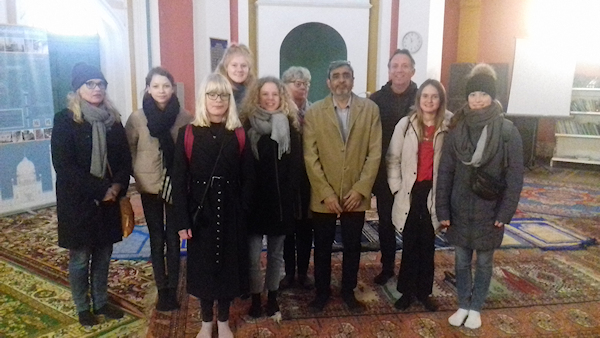 Participation in Interfaith Programme
On 26th March HWPL organized an interfaith programme on the topic of End of the Age. I presented the Islamic point of view and explained how comprehensively the Quran covers this topic. Representatives of Christianity and Buddhism also presented their points of view about the topic.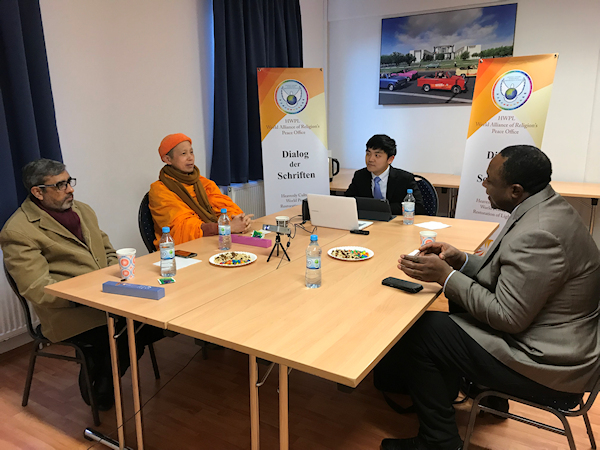 Model of the Mosque
A very famous late Police officer in Berlin, Mr. Werner Textor, made a model of the Mosque with great love and accuracy. He was born on 2 Decenber 1920 and died on 15 June 2015. He wanted to become an architect but joined the Police. He kept his passion alive, making models of buildings and so he chose our Mosque. His wife and son Mr. Martin Textor graciously donated this model to us. We all members of AAIIL appreciate their noble gesture.