Events in June 2019
Reports and photographs
by Amir Aziz, Imam Berlin Mosque
Tradition of Iftar revived in Berlin Mosque
After a long period we revived the tradition and Iftar dinner was organized in the Mosque. Men,women and children participated. Holy Quran recitation was followed by a brief Dars (talk on the Quran). All participants appreciated it. Later Tarawih prayers were conducted.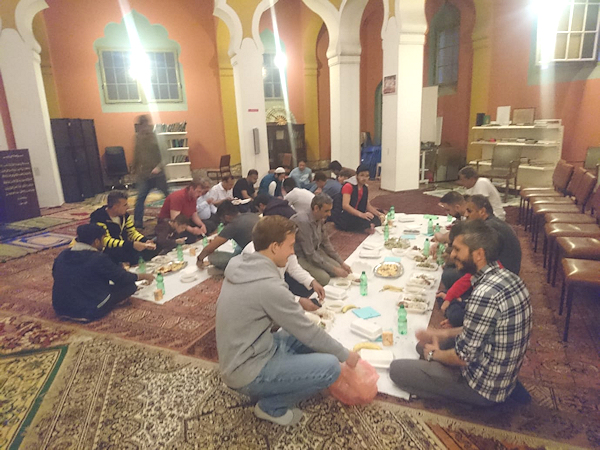 ---
Eid in Berlin Mosque
On 4th June Eid-ul-Fitr was celebrated with religious fervour. Muslims from Germany, Holland, Mali (Africa), Afghanistan, Syria, Egypt, Pakistan, Kosovo, Turkey, Yemen, Iraq, Ukraine etc participated.We were having three gardens renovated since two weeks before Eid and it was not possible to use these. Therefore, only a few guests from other religions (friends of the Mosque) were invited.
Later a party was organized to celebrate Eid. People stayed till Zuhr prayer and enjoyed the day. I am grateful to Dr. Manzoor and his family who specially visited Berlin to participated in the Eid celebration. I am also thankful to Mr. and Mrs.Shabir Hoseini who visited us from Holland to participate in the Eid celebrations.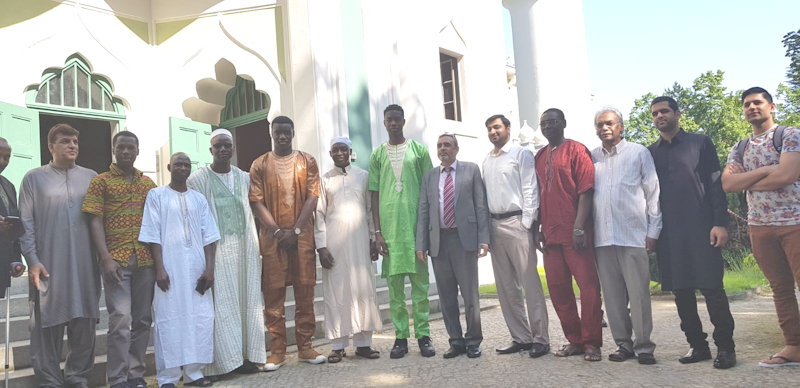 ---
School Visit
On 5th June students from Schadow High school, Berlin visited the Mosque. After a presentation by me, a question-answer session was conducted. A copy of the German translation of the Holy Quran was presented for the school library.
Religious Peace Camp
On 6th June Religious Peace Camp was organized in the Mosque. Representatives of Buddhism, Hinduism, Christianity, Abrahamic religion and Islam participated in the camp. I represented Islam and welcomed the guests in the Mosque. My daughter Saleena Aziz spoke on behalf of her group. HWPL officials and team organized the whole programme. Later on, the Peace walk was organized from our Mosque to the Russian Church.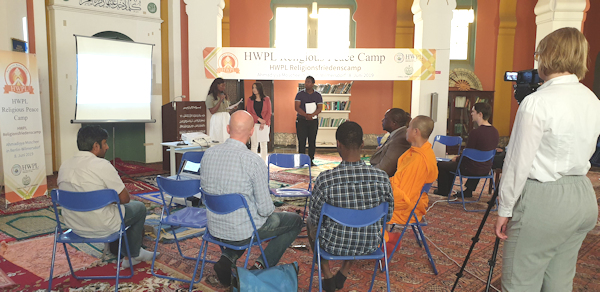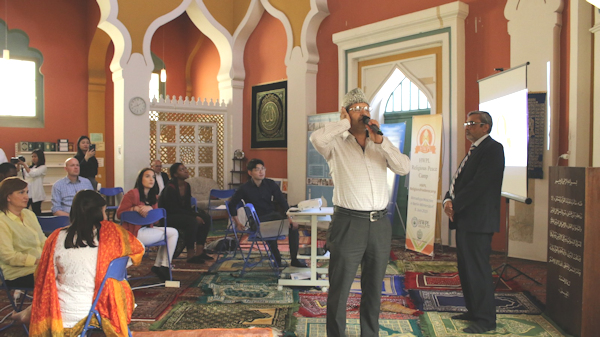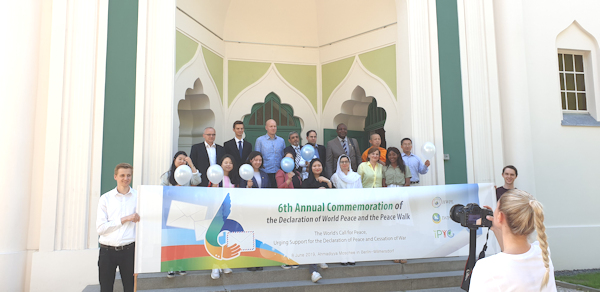 School Visit
On 7th June Evangelic primary school from Berlin visited the Mosque with their teachers. Students were given information about Islam and the history of the Mosque. A copy of the German translation of the Holy Quran was presented to the teacher for the school library.
Long Night
On 15th June 'Long Night' in Berlin was organized. It is annual event held in Berlin to show religious harmony in society. This year more than two hundred people visited the Mosque. Our presentation was repeated after every hour from 5 p.m. to midnight, during which time the Mosque remained open. Visitors were also given leaflets and the Holy Quran as well.
Participation in CDU party
On 18th June the CDU political party organized its annual party in which I participated. It was a nice event and I had the chance to meet with members of various parts of the society.
Urdu German Mushaira
On 22nd June Urdu German Mushaira (poem reading) was organized by Urdu Anjuman Berlin. The topic was world peace and it was organized in a church where an Arabic calligraphy exhibition was presented. I recited my poems as well which were translated into German.
Meeting with DSD
On 25th June a meeting with Deutsche Denkmals Stiftung was held in the Mosque. The Architect, representatives of the Monument Department and DSD officials participated. We discussed future renovation projects for the Mosque and funding as well. You are requested to pray that may Allah help us getting financial aid from these organizations.
Meeting Guardini
On June 28, 2019, the Guardini Foundation celebrated its annual convention at the Academy of Arts. I was invited to attend the convention. In the opening speech our Mosque was mentioned as the Foundation had visited and organized a programme in our Mosque.