Events in October 2019
Reports and photographs
by Amir Aziz, Imam Berlin Mosque
Film about Noah's Ark
A group of children with their teacher visited the Mosque to make a film about Noah's Ark. They were interested in knowing the teachings of the Holy Quran on this topic. Children were showed various verses about it. Later a book 'Stories of Prophets in the Holy Quran' was presented to all students. This book was written by the late Imam Yayha Butt who served the Berlin Mission for more than 30 years (in the 1960s, 70s and 80s).
Mosques Open Day
October 3rd is a public holiday in Germany to commemorate the union of East and West Germany. This day is celebrated as Mosques Open Day. This year more than one hundred people visited the Mosque in one day. They were given presentation and question-answer sessions were conducted. Interested visitors were presented with a copy of the Holy Quran. I am grateful to Ms. Galida Badollea and Ms. Sabeena Bushra for helping me in arranging the event successfully.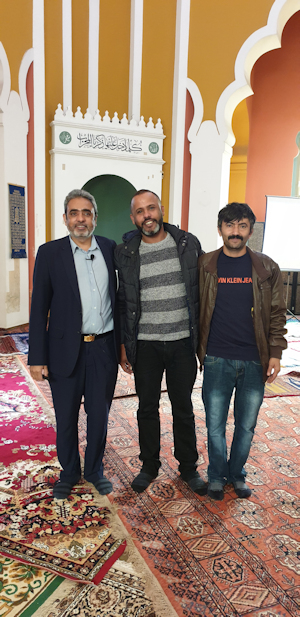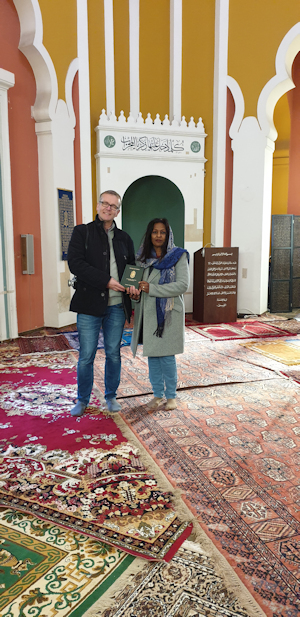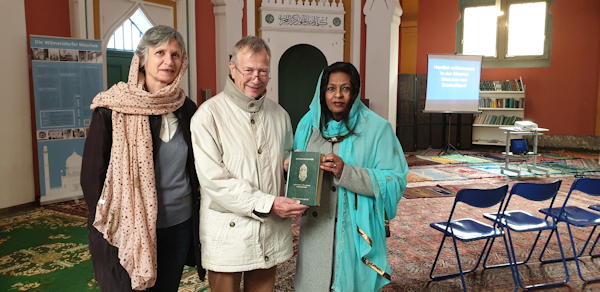 ---
550th birth anniversary of Baba Guru Nanak
On 6th October Sikh community in Berlin celebrated the 550th birth anniversary of Baba Guru Nanak with the cooperation of the Embassy of in Berlin. I was asked to represent Muslims and deliver a speech. My speech was appreciated by the participants. Later officials of Indian Embassy presented book gifts to the speakers. More than 500 people attended the programme.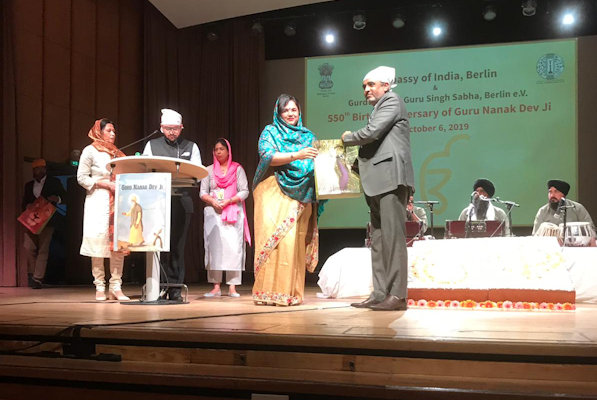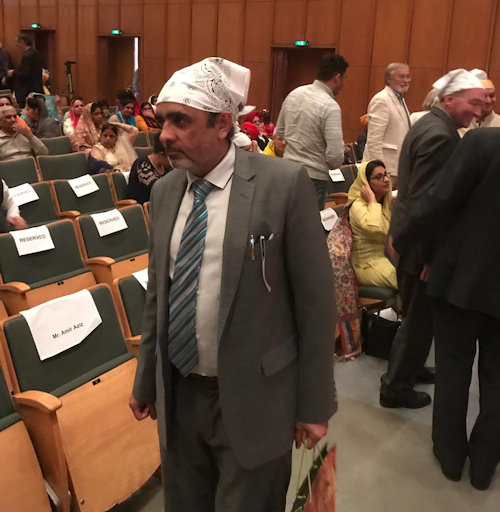 ---
Award by Roman Catholic Academy
On 10th October the Roman Catholic Academy Berlin arranged a programme to celebrate 800 years of the peace loving act of Francis of Assissi who travelled to Egypt to meet then Sultan Al-kamil Muhammad to persuade him to stop the crusade and end the enemity. Special postage stamps were printed to commemorate this great event of interfaith harmony. Religious leaders who are active in Interfaith dialogue were presented with a special gift of a Post Book. I was also awarded on this event.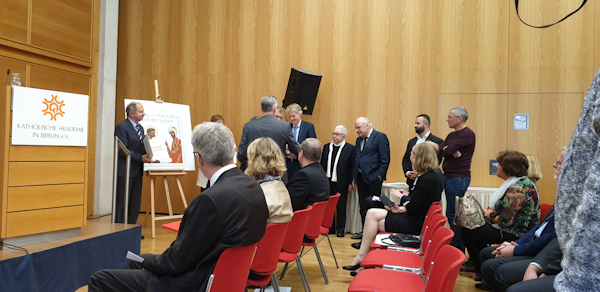 ---
Book Launching Ceremony
On 19th October the Urdu Anjuman Berlin organized a programme to launch a book of a famous writer and professor of the Urdu language in Humboldt University of Berlin, Ms. Ishrat Mohin Seema. Her poetry book was launched and it was my honour to receive a copy of the book from this renowned author. I also recited my poetry on this occasion.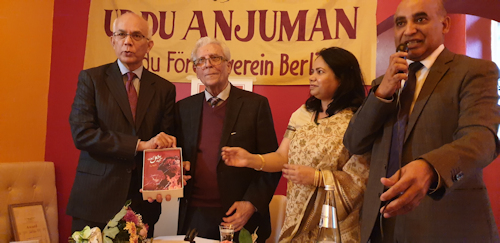 ---
Visit of Ph.D. Scholar from Japan
On 26th October a scholar, Ms. Aoi Mochizuki, visited the Mosque and attended the Friday prayer. Later on she stayed in the Mosque for two hours and had discussions with Syrian refugees. She is writing her thesis on this topic and discussed their problems.
Poetry Recitation and Introduction of Book
On 26th October in the evening the Bazmi Adab Berlin arranged a poetry recitation programme. I was invited to participate. I presented my poems. Later on a novel of a very famous Indian writer Rehman Abbas was introduced by the author himself. His novel has been translated into the German language as well.
Visit of members of Holland
From 24th to 26th October some members of the Jamaat from Holland visited Berlin on a family trip. They attended the Friday prayer and also participated in the daily prayers. It was a very great pleasure for the Mission to have members from Holland who are dedicated and devoted to the Jamaat.