Events in January 2020
Reports and photographs
by Amir Aziz, Imam Berlin Mosque
Visitors from Sydney, Australia
We were very happy to host brother Usman Sahu Khan and his family members from Sydney, Australia. He along with his wife, two daughters and uncle visited the mosque on 10th January 2020. Mr. Yasir Aziz and my mother welcomed the family who attended the Friday prayers in the Mosque. They stayed for some time and enjoyed their visit. We are grateful to brother Usman and his family for their visit to the Berlin Mosque and hope they will continue the tradition of visiting this Mosque in the future as well.
Visitor from USA
With the blessings of Allah, my mother Mrs. Ruqayya Aziz visited Berlin and stayed here for two months. She assisted with various tasks. She not only worked herself but also persuaded others to help the Mosque. She was active in management and also in building contacts with other people and organizations. She visited a Sufi organization, a church and met with Arabs who had visited the Mosque.
Visit by Church
On 13th and 16th January 2020 students of the Evangelic Church from Berlin visited the Mosque. All students visit the Mosque before their confirmation and learn about other religions. The students asked questions about Islam and about the Mosque's history after our presentation to them.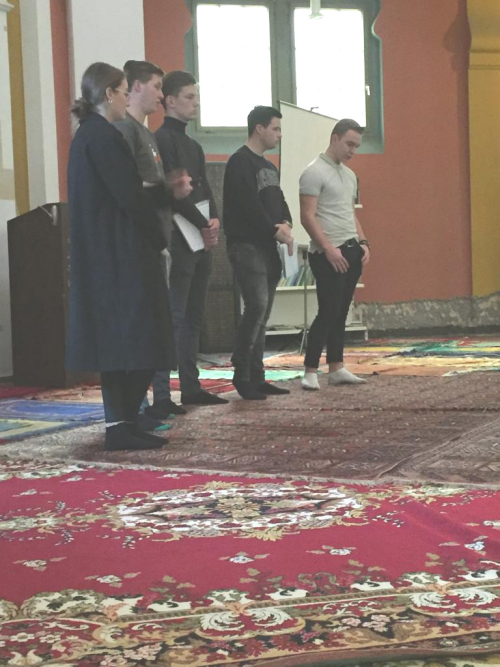 Successful visit to Pakistan
It was the blessing of Allah that my visit to Pakistan was successful. I was able to complete a book and meet with some renowned religious scholars to explain our point of view. Our missionaries and the General Secretary accompanied me in those meetings and we also visited various libraries. The annual gathering December 2019 was a great success and future plans were discussed.
Google Statistics about the Berlin Mosque
Google has sent us statistics about the Mosque. According to their figures, more than 559,121 people found out about the Mosque on Google. More than 1,123 asked for directions to the Mosque and 228 visited our website in December 2019.