Eid-ul-Fitr, June 2017
Reports and photographs
by Amir Aziz, Imam Berlin Mosque
Note: Other events of June 2017 are reported separately at this link.
Some scenes from after Eid-ul-Fitr
On 25th June Eid-ul-Fitr was celebrated with great jubilation in the Berlin Mosque and Mission. This year Muslims from Germany, China, Turkey, Sri Lanka, Scotland, Africa, Yemen, India, Bangladesh, Afghanistan, Egypt, Singapore, Brazil , Pakistan, Syria, Mali, Poland and Sudan attended the Eid prayer in the Berlin Mosque. The whole programme was recorded by the news media. Our Eid programme was broadcast on TV in the evening by Rbb television. It was mentioned that the Mosque invited people of other faiths to participate in the Eid celebrations. It was also mentioned that in the Mosque the sermon is given in the German language.
Below: Imam of Berlin Mosque giving interview to news media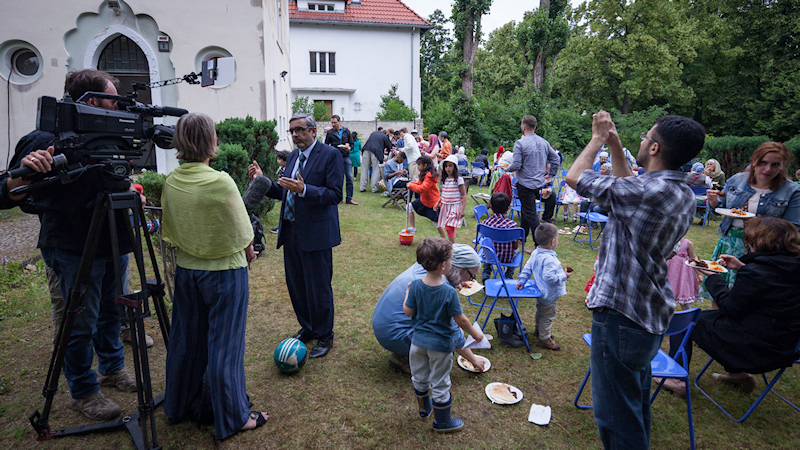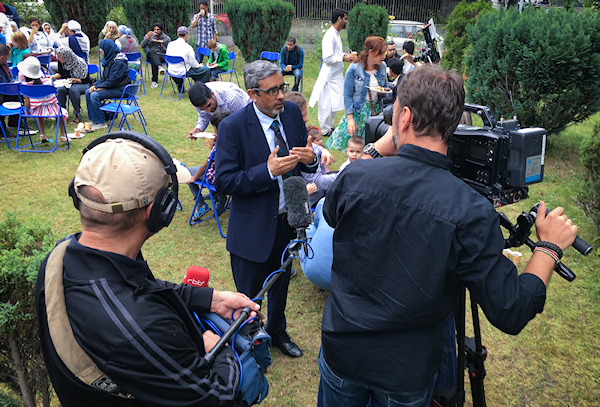 ---
Nikah from 1928
There was a historic moment for the Berlin Mosque as the grandson and great-grandson of Dr. Khawja Abdul Hamied specially visited us from Bombay (India).. Dr. Khawja was the first person who recited Quran in this Mosque on the inauguration ceremony of the Mosque. He got married in the Mosque in 1928, and through his Nikah papers his family was able to locate the Mosque and visited on Eid. See the photographs below.
Below: The Nikah certificate issued at the Berlim Mosque, 1928