Back to Events in September 2017
First ever public demonstration of AAIIL
16 September 2017
Report and photographs
In the history of the AAIIL, the first ever public demonstration was held on 16th September in the main square and Church of Berlin (the Kaiser Wilhelm Memorial Church at Breitscheidplatz). The demonstration was against all sorts of terrorism. In December 2016, a terrorist drove a lorry into the crowd at the Christmas Market next to this Church, killing several people. At this demonstration, members of the AAIIL from several countries, carrying flags of their countries, held placards aloft saying in various languages: "Terrorism has no religion."
It was stressed by several speakers that no religion, least of all the religion of Islam, orders its followers to carry out acts such as the one at the Christmas Market next to this Church. AAIIL members also laid flowers at the temporary memorial to the victims of the tragedy, located outside the Church, and expressed sympathy for them.
The Vice-Mayor of Berlin, Mr. Engelmann, Mrs Roline Twahira Samsoedein, Minister of Physical Planning, Land and Forest Management of Suriname, Prof. Gerdien Jonker and Pfafferin Katja also addressed the demonstration. All Lahore Ahmadiyya delegates brought flags of their respective countries and representatives of the various countries addressed the public. Police protection was provided and the management of the Church graciously assisted us.
The speech by Hazrat Ameer Dr A.K. Saeed was the climax of the event. Everyone present appreciated his speech and even visitors were impressed.
Here is a link to a video recording of his speech. (After reaching the page opened by this link, you must click on the video itself to play it with sound.)
Ms. Barbara Christian presented a song for humanity which added colour to the programme. In the end Hazrat Ameer prayed for innocent victims of terrorism and all delegates laid flowers on the memorial station at the Church.
Some photographs of the demonstration are shown below.
Here is a link to another report of this demonstration with photographs which was published in the HOPE Bulletin of the AAIIL, Ocrober 2017 issue.
Some general scenes: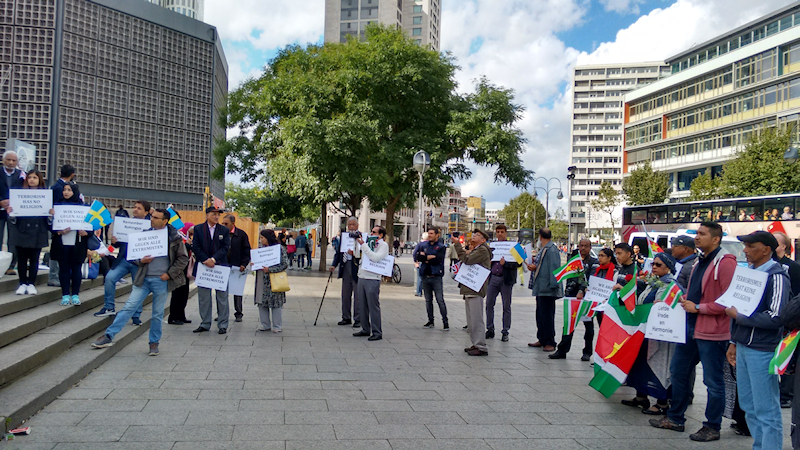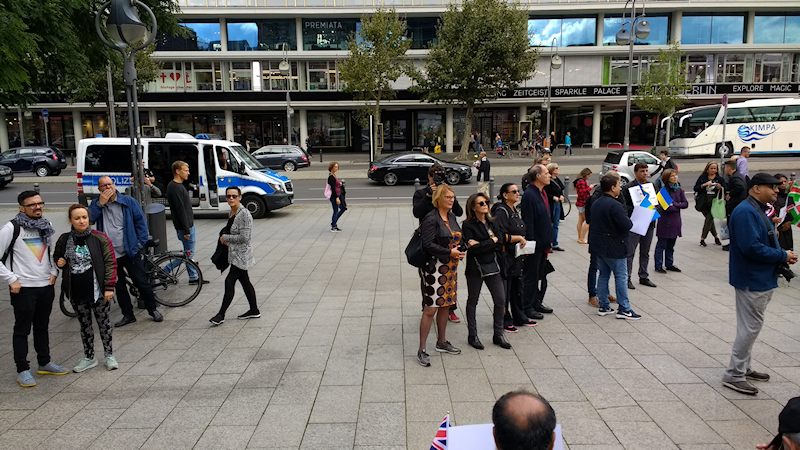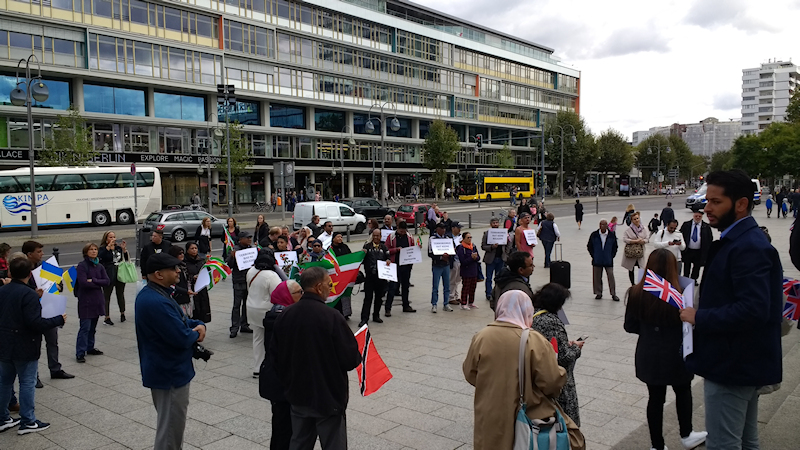 Below: Mrs Roline Twahira Samsoedein, Suriname government minister speaking
Below: The Vice-Mayor of Berlin, Mr. Engelmann speaking
Below: Head of the Lahore Ahmadiyya (Hazrat Ameer) Dr A.K. Saeed speaking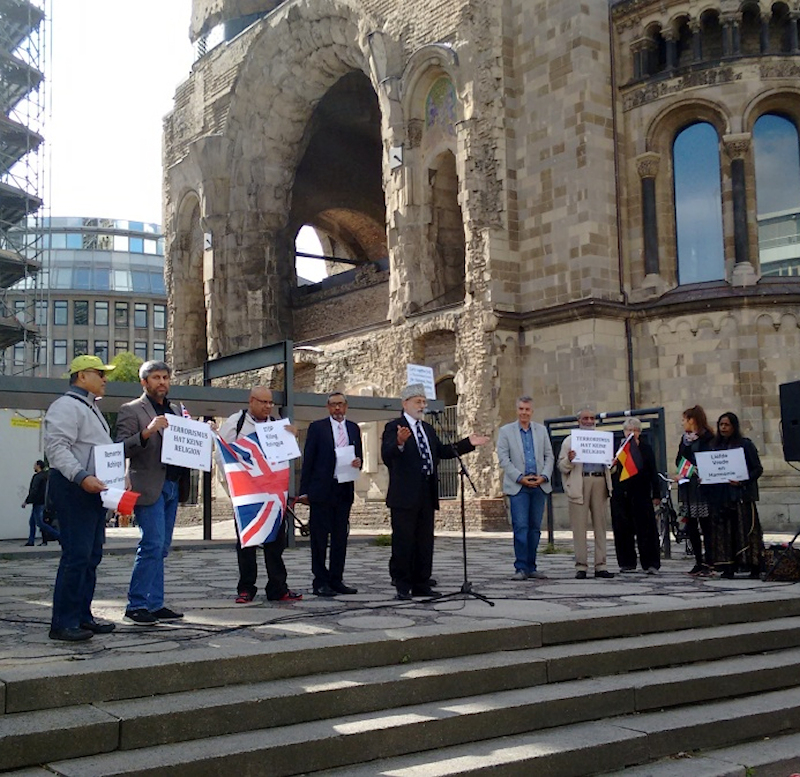 Below: Dr Hameed Jahangiri of USA speaking
Below: Prof. Dr Gerdien Jonker speaking
Below: Ms. Barbara Christian presenting a song for humanity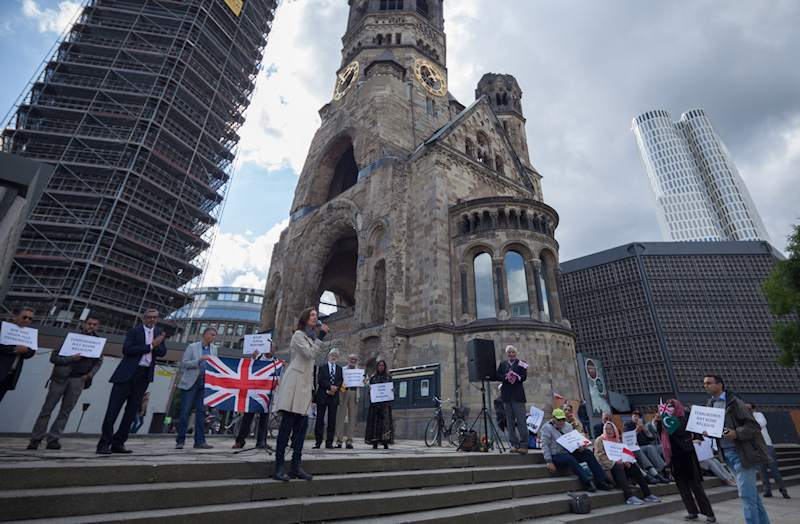 Below: Laying flowers at the temporary memorial to the victoms of the December 2016 attack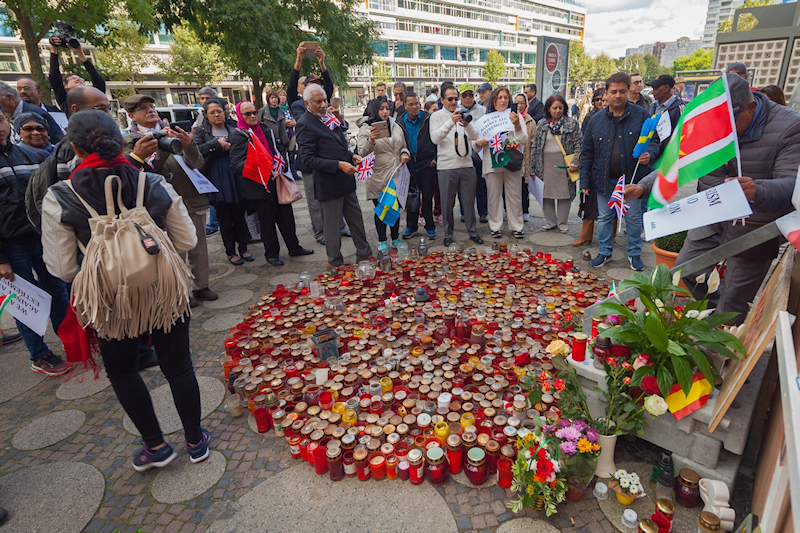 Below: Hazrat Ameer Dr A.K. Saeed saying prayers for the victims at the memorial